A Combination That Matters
Our Position
Reliable Energy is aligned with you, the consumer. We work exclusively on your behalf to make utility rate selection and price management a simple, secure and cost effective process. We leverage the combined needs of the group we represent and we pass the resulting benefits on to you. This means better prices, better service, more flexibility and ultimately, peace of mind in knowing that your needs are ALWAYS being put first.
Our Process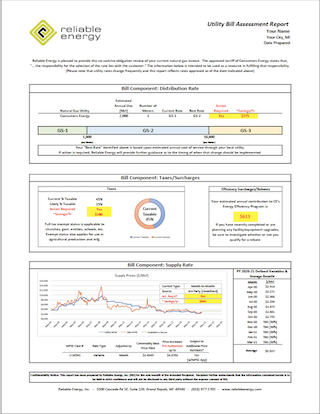 We have a well-defined process that is quick, easy to understand, and requires zero commitment or expense on your part.
Evaluate

Provided at no cost
We start with a thorough evaluation of the customer's current utility service rates
Simple collection and review of recent invoices

Educate

Provided at no cost
We prepare a one-page report to summarize and present findings
Reports are accessed by way of our secure, online platform

Distribution Rate Analysis
Taxes & Surcharges Analysis
Supply Rate Analysis

Facilitate

We will assist in securing available refunds or facilitating utility rate changes
Simple, fast, convenient, and paperless using our online platform
Electronic verification and storage of all support materials

Advocate

We will assist in resolution of any future utility billing errors
We will provide monthly verification of rates charged
We will provide regular updates regarding available rates and market conditions
Our Technology
Our state-of-the-art system provides online access to reports and tools designed to show you the best utility rate options and facilitates any desired rate changes.
Online tools designed for the consumer
Simple, fast, convenient, and paperless system
Transparent
Our Commitment
As your agent, Reliable Energy continuously monitors utility rate cases and filings. In addition, we are committed to providing you with:
Personalized service and representation in all utility related issues
Secure access 24/7 to all account information and support documents
Consistent, clear and unbiased representation