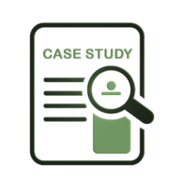 A church in West Michigan submitted their utility natural gas invoices after learning church leadership had partnered with Reliable Energy to provide a utility bill assessment program for all member parishes.  Note that this same church had been approached directly by Reliable Energy several times but was reluctant to share information due to their lack of knowledge regarding available utility rate structures.
Our initial evaluation of utility invoices for this church uncovered the following issues:
The utility was charging sales tax on each invoice (religious entities are exempt).
The utility was passing through an undefined variable supply rate that was ~300% higher than it would have been with proper oversight.
At the customer's direction, Reliable Energy facilitated the following utility account changes:
Tax exemption paperwork was filed with the utility including a directive to refund amounts previously collected.
The variable supply rate was converted to a fixed rate with no exposure to market volatility.
With Reliable Energy's assistance, the following results were achieved:
The utility refunded sales tax collected in the amount of ~$1,200.
Fixing the supply rate on the utility invoice reduced annual expenses by ~$3,500 vs previously charged amounts.
Fixing the supply rate provided budget certainty for future billing periods.
https://www.reliableenergy.com/wp-content/uploads/2020/05/case-study-1-e1588960896227.png
180
180
Robert Reilly
https://www.reliableenergy.com/wp-content/uploads/2017/03/Asset-1@2x-1030x175.png
Robert Reilly
2020-05-08 10:33:38
2020-05-08 14:07:30
Thou Shalt Not Steal